Decided I'd update this with my more recent builds, since I'll be going on a hiatus from the game. I have flown these ships regularly and can vouch for their combat potential.
First off, here are the set of implants I have active that are affecting these ships. I do not have multiple crews.
Blood Tormentor [Punisher Build]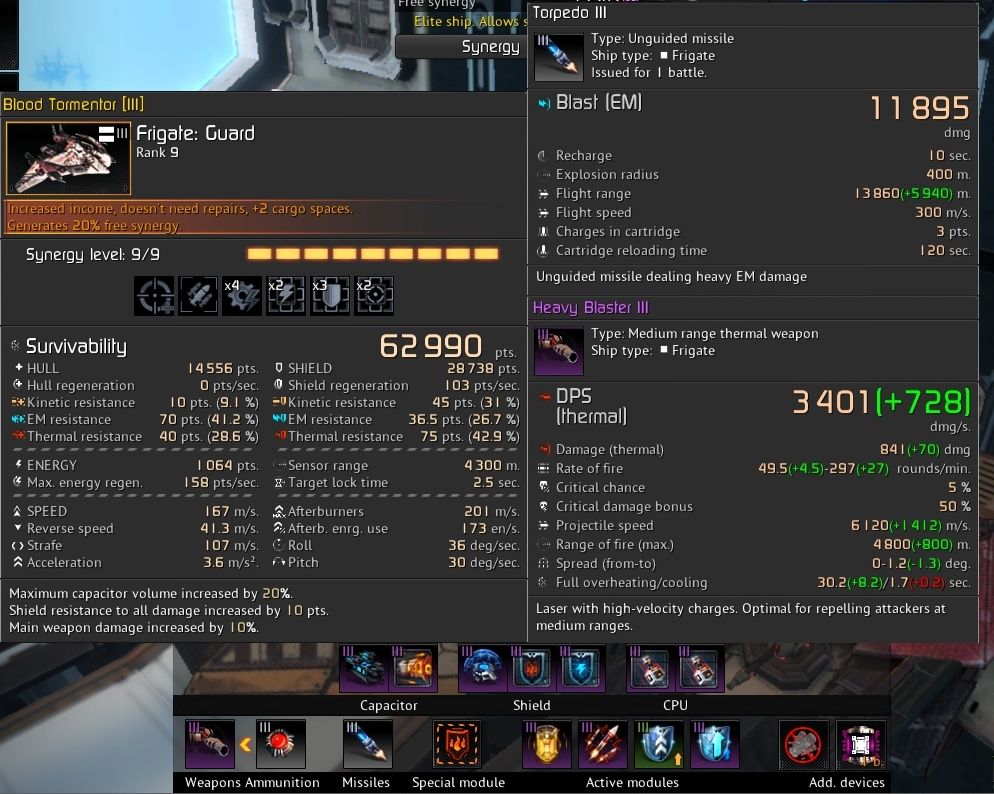 This one is built entirely around the Heavy Blaster. By maximizing damage and reducing spread, more projectiles hit the target, making it deadly against large and small targets alike. I went with the cooling ammo because this weapon has a cycle-up time, and is much more deadly if the player doesn't have to stop shooting to let it cool as often. I have taken out Tier 4 and 5 Guards with this build.
Sigurdr [Destroyer Build]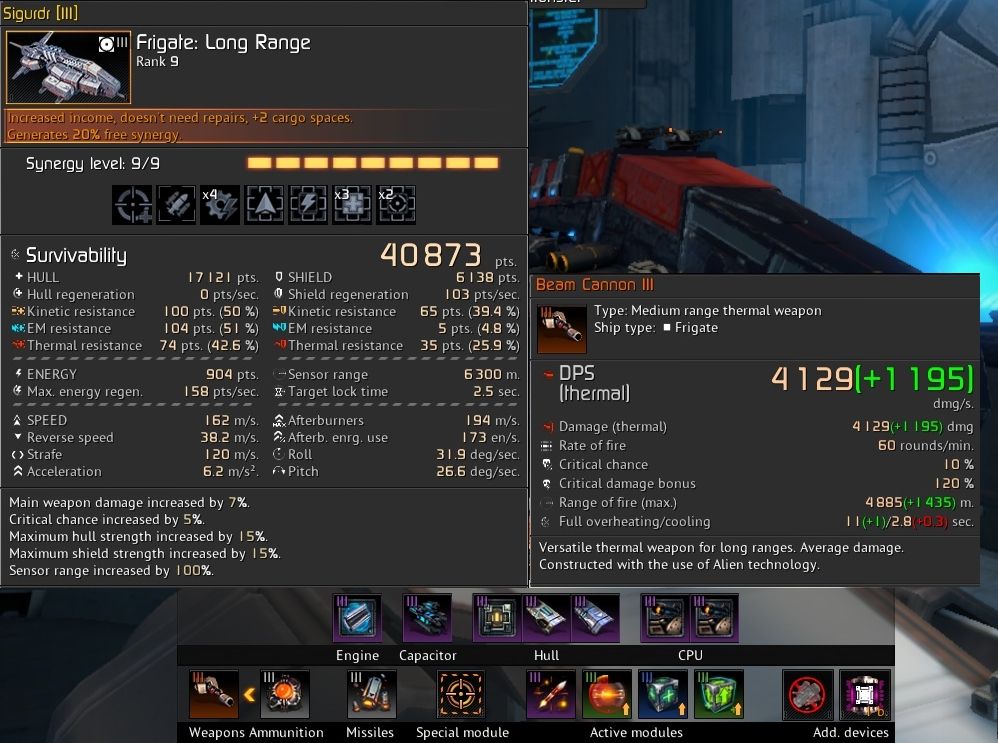 Another raw damage build. I tried to make the Sigurdr as tanky as possible without sacrificing damage. Collision Compensator gives the Sigurdr a much needed boost to Strafe and allow it to hug cover without taking damage. The Horizon modules counteract the Curved Reflector's reduced range. This ship is very adept at hunting Guard Frigates. Swap out the Minelayers for Octopus missiles for even more potential against Guards.
Reaper [interdictor Build]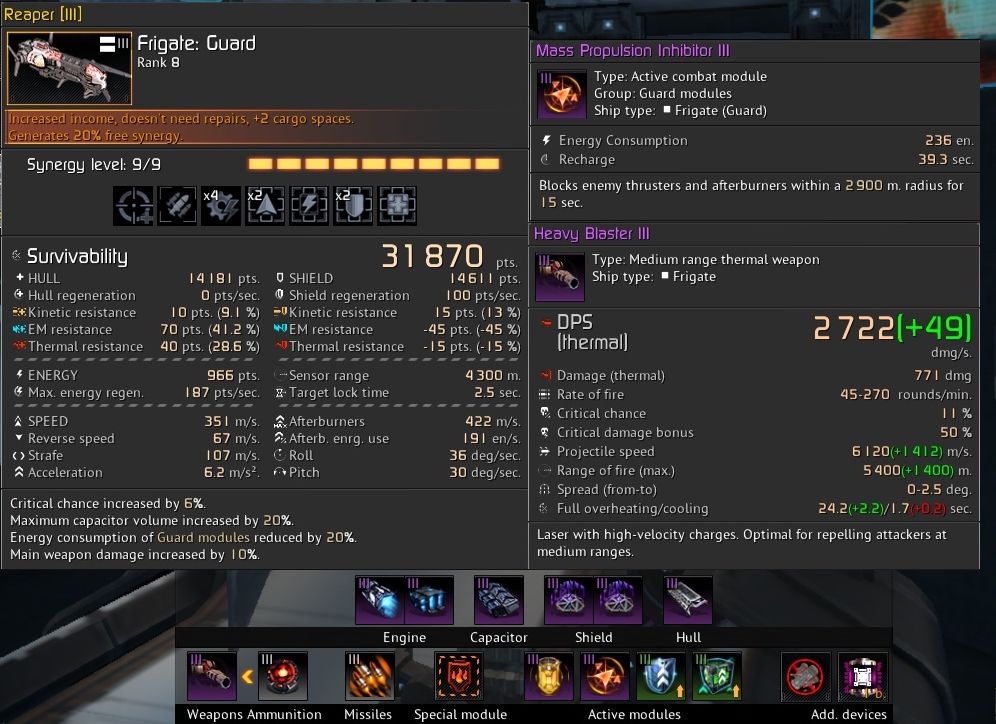 This one is a niche build. I use it almost exclusively in Detonation matches where I know the primary enemy will be Interceptors. The entire point is to get to the objective quickly, and keep enemy mobility down. This ship can easily run down a bomb carrier and destroy them. It is also very effective at following a friendly bomb carrier, and keeping enemies from being able to pursue. Whenever I bring this ship out, I expect to die. The main goal is to cause as much chaos as possible before that happens.
Sawtooth [brawler Build]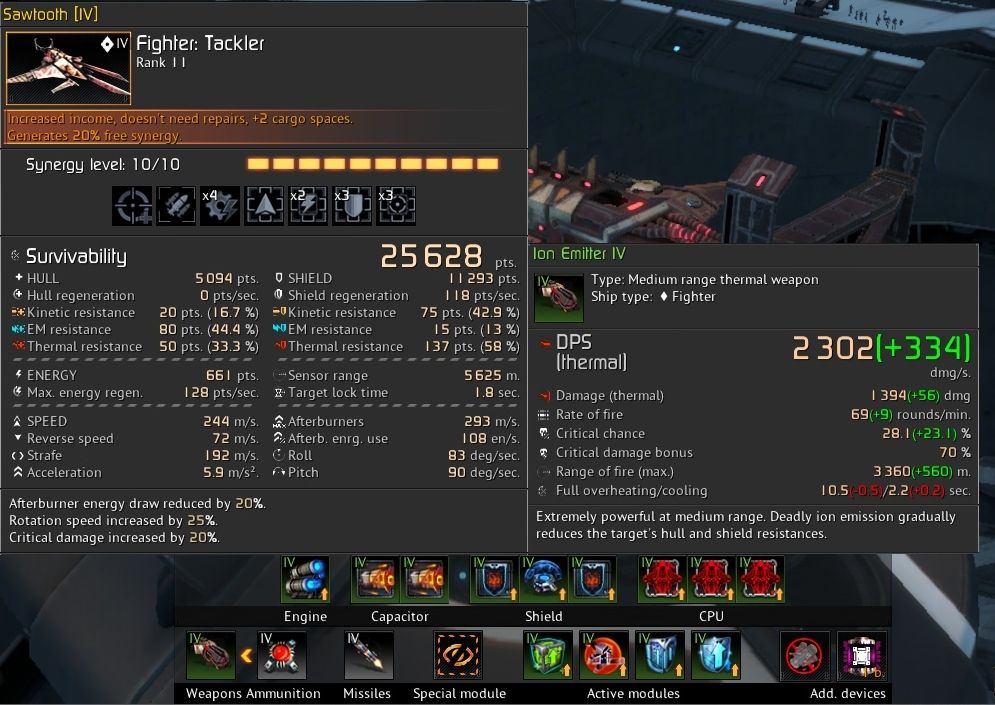 This one is focused on making the Ion Emitters as deadly as possible by boosting their Crit Chance and Refire Rate. Works fairly well, thought there are ships that do this much better. I went with Thermal Resistance because of the many special abilities that use this damage type.
Tiger [interceptor Build]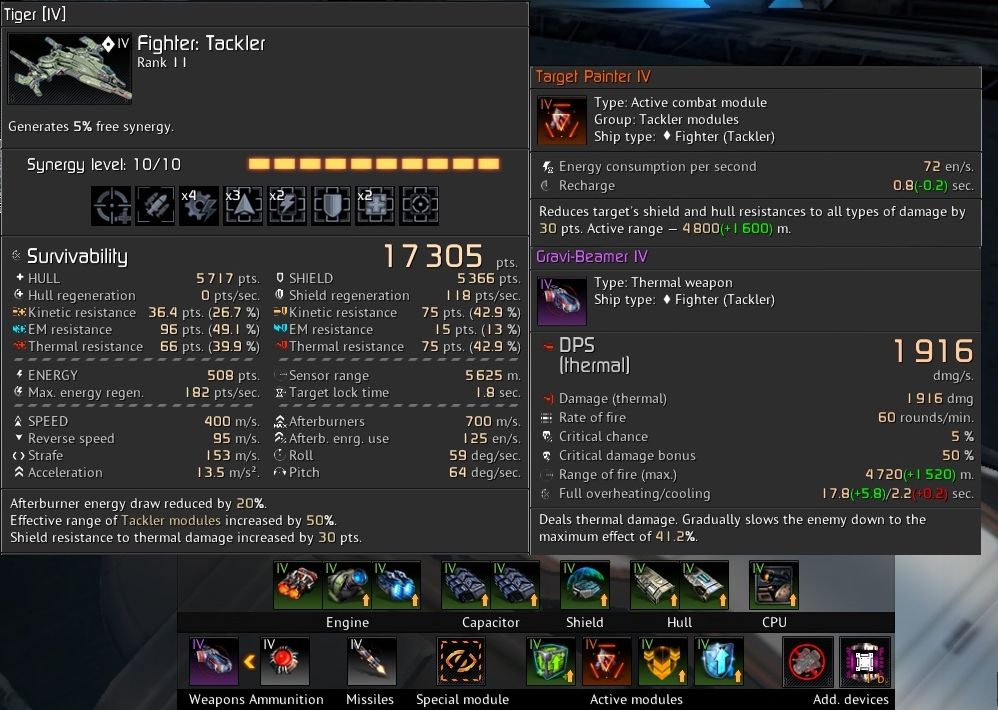 This one is a combination of damage and inhibitors. Designed to run down individual enemy Interceptors and Fighters and slow them until the main battle group can catch up. Target Painter helps make high-speed passes more effective.
Atlas [Missile Platform Build]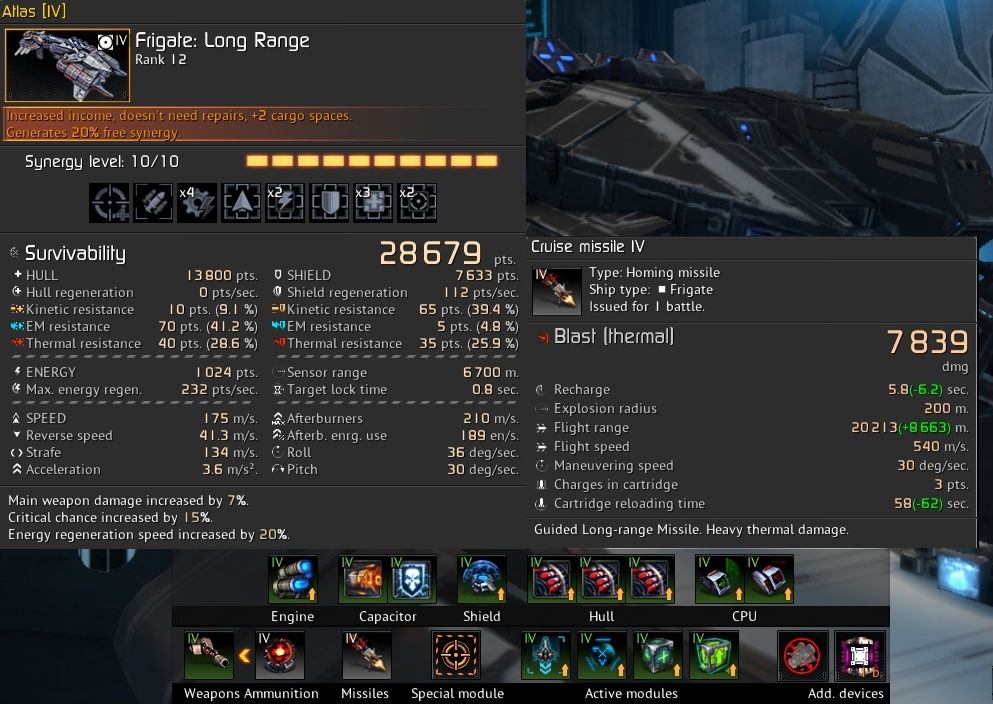 This one is more of a 'because I can' build. Can easily be countered by Missile Shield. Can be quite effective in Combat Recon to keep the enemy captain on the move, or in Team Battle, to help take out pesky frigates. EM Scattering is useful for keeping the enemy guessing where the missiles are coming from, while Reverse Thruster helps you get out if they do find you.
Lion [boxer Build]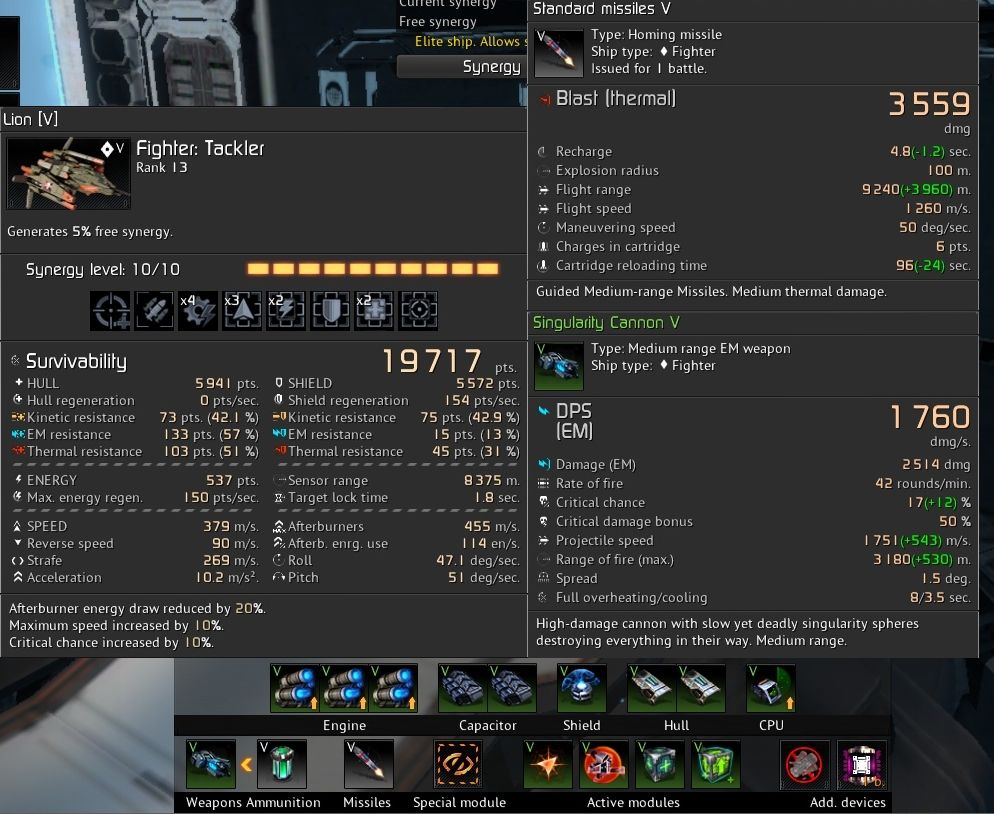 This is the build I used to kill FLinT. Essentially, the goal was to make a ship that maximizes strafe to keep the enemy in it's gunsights while still being able to dodge. The only weakness is it's horrible rotation speed, due to the galvanized armor. The sentry drone helps cover this weakness.
Lion Mk2 [Ambush Build]
Entirely based around the idea of uncloaking behind an enemy and destroying them as quickly as possible. Went with Irridium Heatsinks instead of Pulse Dischargers because energy stability is so important to the Cruise Engine.