New Premium ships, with unique gameplay mechanics and crafting system, are already in the game. Federation guard frigate Archelon, Federation gunship Stingray and a favourite of our players — Empire engineering frigate Brokk saw the light in April.
Of course, we are not going to stop at three ships and are already planning to transfer Premium ships Phoenix and Reaper to the new acquisition mechanic and give them new weapons and modules. This pair of pirate frigates was previously available for purchase only for GS or as part of DLC, but now pilots can build these ships with special components that are unique to each of them. The necessary resources can be found during the 'Trophy search' after PvP, PvE and Co-op battles, as well as in special containers and for completing special assignments.
Ships Phoenix and Reaper will be the first to get the unique ability to select a special module before going into battle. Pilots can choose one of the two available special modules. A new alternative special module will have to be assembled from components which can be obtained by completing tasks in the game. They can also be purchased in special bundle containers.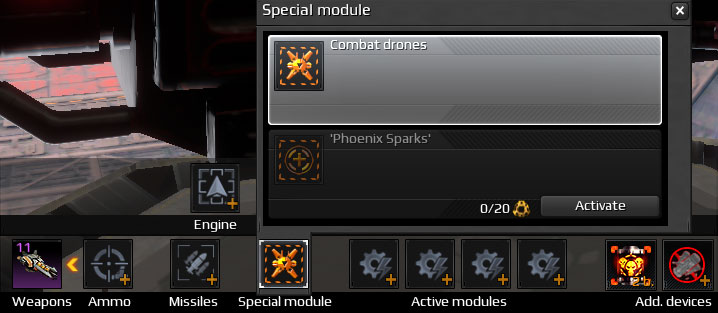 Reaper will get an alternative special module that generates a huge shield sphere around the ship that can cover allies, and a weapon generating a gravitational field, pulling enemy ships towards the shooter.
But this is not the only way the Reaper is going to affect gravity, the ship will be able to use a module that attracts ships of hapless opponents to the player. Another module will allow the pilot to briefly get an additional shield.
Phoenix , in turn, will have a unique alternative special module with the ability to switch drone operation modes. In ' Recovery mode ' drones will restore not only shields but also the host's hull. They won't repair allies, but the effect is stronger, and the module is easier to manage than its classic counterpart. When you switch to ' Attack mode ' the drones will start attacking the pilot's target. Their attack power increases at the same time, while the target suffers from reduced hull resistance to all types of damage.
The ship will be rich with modules allowing to share its shield with an ally or give an ally a separate shield and thereby save him. Its new unique weapon will have increased critical damage and high rate of fire.
Thanks to these capabilities, Phoenix and Reaper form an almost impregnable pirate duo, so breaking their defences is going to become a real challenge.
In the upcoming summer days Star Conflict will see a lot of interesting activities for pilots some of which should help shed light on the future global additions to the game. Follow the news!
Thanks for your attention and good luck in battle!