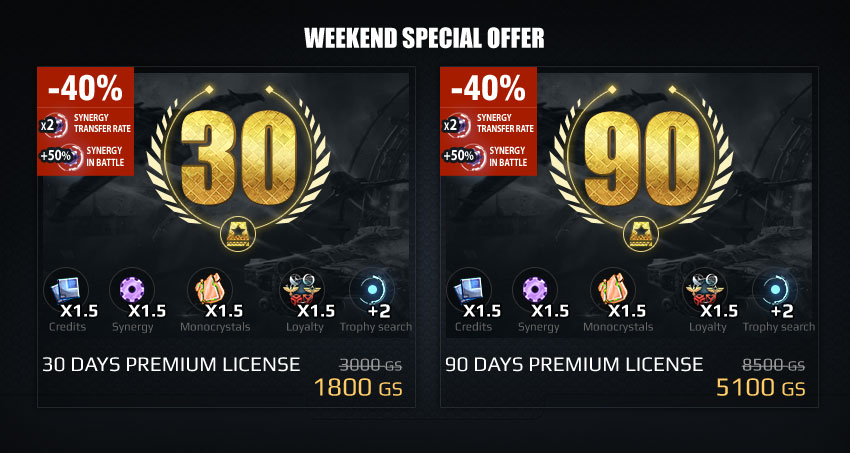 Pilots, the celebrations continue! Time to prepare the fleet for new victories! UMC reports that the customer known as the Broker is offering new missions to all pilots interested in urgent fleet strengthening and receiving the ships Phoenix and Reaper.
 
Special weekend offer!
x2 synergy transfer rate
+50% synergy in battle
40% off premium license for 30 and 90 days
 
Premium license gives all pilots the right to receive more battle rewards, loyalty vouchers and synergy in combat.
And when the battle ends,  pilots with a premium license get two additional trophy search attempts — which means that the chance of getting new and unique equipment is higher!
 
This license will help pilots get a great reward:
 +50% to credits gain;
+50% to loyalty vouchers gain;
+50% to synergy gain;
+50% to monocrystals from missions;
+2 trophy search attempts after battles.
 
UMC reminds you that from March 22 Phoenix and  Reaper ship components will no longer be available to pilots. It will only be possible to obtain them in special DLC pack in the official store or on Steam.
 
Special festive event continues!
50% off Phoenix and Reaper ship components.
 
 
Strengthen your fleet! Together we can win!
 
 
Yours faithfully,
Star Conflict team