Hey guys, Im gonna start work on my fanfiction. Its gonna be a huge one. 
Though I need the community's help. First I need the following information in this format if you want to be included into the story. 
Name

Brief Description of appearance

Role in the SC universe

Allegiance

Corporation

One funny thing that distinguishes you above others
If you want to be included into the story. I want to span across the members of NASA and WPK and other corps into this. But I will include people ONLY if you are on this forum and filled out the information as requested. I will update it as it goes. 
Disclaimer: You will not be even mentioned in the story if you do NOT post a description. 
Note: Summary has yet to be released, but I need people to fill this story.
JP HACK (aka "JP")
Young pilot in his 20's, wears alot of techno gadgets, and has spiky brown hair and brown eyes. 

Interceptor Pilot -  Escorts NASA's high officials - Leader of the SRDS. 

Empire

NASA

Has an insane addiction to sweet rolls. Needs one every 24 hours. If he does not have one consistently, his mood changes and he becomes less talkative and easily pissed off. Though his skill when dogfighting increase by 250%.
Jasan Quinn (aka: "Black Flag.")
Late twenties, with 'boyish' looks. Distinctive bronze-tinted eyes due to augment implants. Changes hair colour more often than some men change their socks.

Quinn is an Imperial Privateer operating under contract for the Imperial Fourth Armada "The Oathsworn".

The Empire. In particular the Wardens Order. Also loyal to his privateer crew, collectively known as "Tortuga Squadron".

None [if pre "Lucky-Six" story], NASA [if post "Lucky-Six"].

Tends to lend his persona to his crewmates, ensuring anyone who deals with the Tortuga ultimately deals with someone who calls themselves "Captain Quinn."
Kine
Born Ohso-Nogo, 'Choppers' is the street version of Tournament Dodgeball where two teams of six players either threw the ball at an opponent to eliminate him, passed to a team mate or bounced it off the Kine drone allowing the next person picking it up to shoot while moving. Choppers played in the hood replaced the expensive Kine drones with a human target instead, a position Ohso was made to fill until his Grandmother paid off her debts. The moniker stuck ever since.
2.  Brief Description of appearance
Inexplicably fetching Jericho features despite his Federal heritage. Grandma never talked about his parents.
3.  Role in the SC universe
Kine believes that he has one and traversed many worlds in his quest to seek it out.
4.  Allegiance
For practical reasons, it usually depends on who was doing the asking.
5.  Corporation
Steel Marauders
6.  One funny thing that distinguishes you above others
Hailing from a cultural cocktail milieu that is the Federation gypsy, Kine has developed a quasi-universal benign response unbounded by language barriers. The RAWR. Thank you, Hello, Goodbye, Yes, No, Tea or Coffee? It's all RAWR now says Kine.
Jacxis Valt. Also responds to 'Arctic Fox' (his call sign).
2. Brief Description of appearance
Approaching mid-twenties, brown hair, green eyes, wiry build. Almost always has a pair of headphones with him. Very obviously of mixed parentage (Federation and Empire).
3. Role in the SC universe
Earning his keep as a mercenary. Political apathetic and doesn't really care about the whole war; he just wants his money. 
4. Allegiance
He defected from the Federation to join Jericho because he needs to unlock Mk3 modules the pay was higher.
5. Corporation
None. He doesn't use teamspeak and he feels it's not nice to deprive teamspeak-users of a corp.
6. One funny thing that distinguishes you above others
Upon waking up, he gets a terrible case of bed hair, which requires insane amounts of time and hair products to mitigate. Upon taking off his helmet, he also gets an equally bad case of helmet hair, which also requires the same amount of time and hair products to mitigate.
Beroya "Kobold" Kaine 
1. Beroya "Kobold" Kaine
Snarky, unruly, and stubborn as a mule. He hates being told what to do by anyone. He is an introvert who keeps to himself but he also has a very short fuse and a temper to match. Often gets into trouble by shooting his mouth off at the wrong person. Adept sniper, but prefers to talk things out rather than shoot. Specializes in Guard frigates and Tackler fighters. Favorite weapons are the Coil Mortar and Gauss Cannon.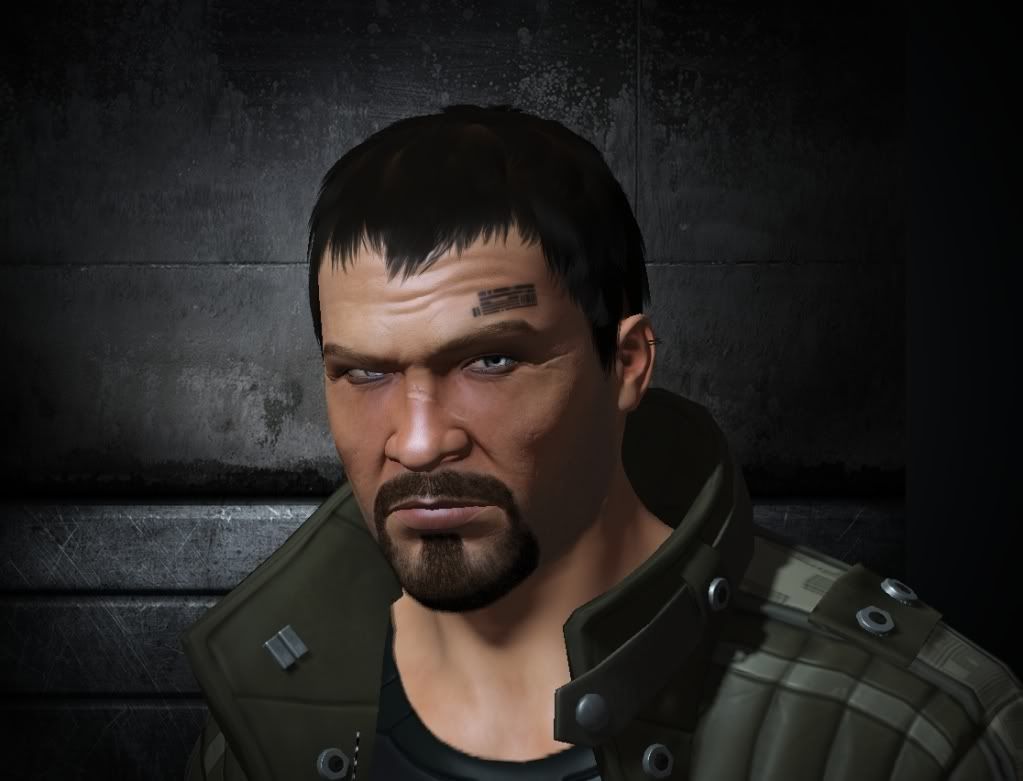 Began life as a Federation smuggler, running contraband to the Jericho during the uneasy truce between all three factions. The Jericho sold him out in an underhanded deal with the Empire in exchange for several of their own captured pilots. He then became a member of the Federation-based pirate gang, The Privateers. After narrowly escaping a deadly power struggle within the criminal organization, he turned to bounty-hunting.

Federation heritage. Hates Jericho with a passion, hence the phrase "Die Chipheads!" painted on his Anaconda-M, the Soldier's Fortune.

No corporate allegiance. Ex-officer of the rogue sister corporation of Dynamis known as Dynamo. Ex-member of NASA (due to shooting his mouth off at the wrong people).

Happily married to Ariphes Kaine, an ex-Empire intelligence operative. Instead of wedding rings, Beroya and Ariphes wear matching earrings to show their commitment. Both have a scar across their nose, which was a point of commonality between them when they first met. Ariphes lives with Beroya in the Soldier's Fortune, but occasionally ventures out to complete contracts for her employers using her modified Sai interceptor which she received from Beroya as a wedding present
.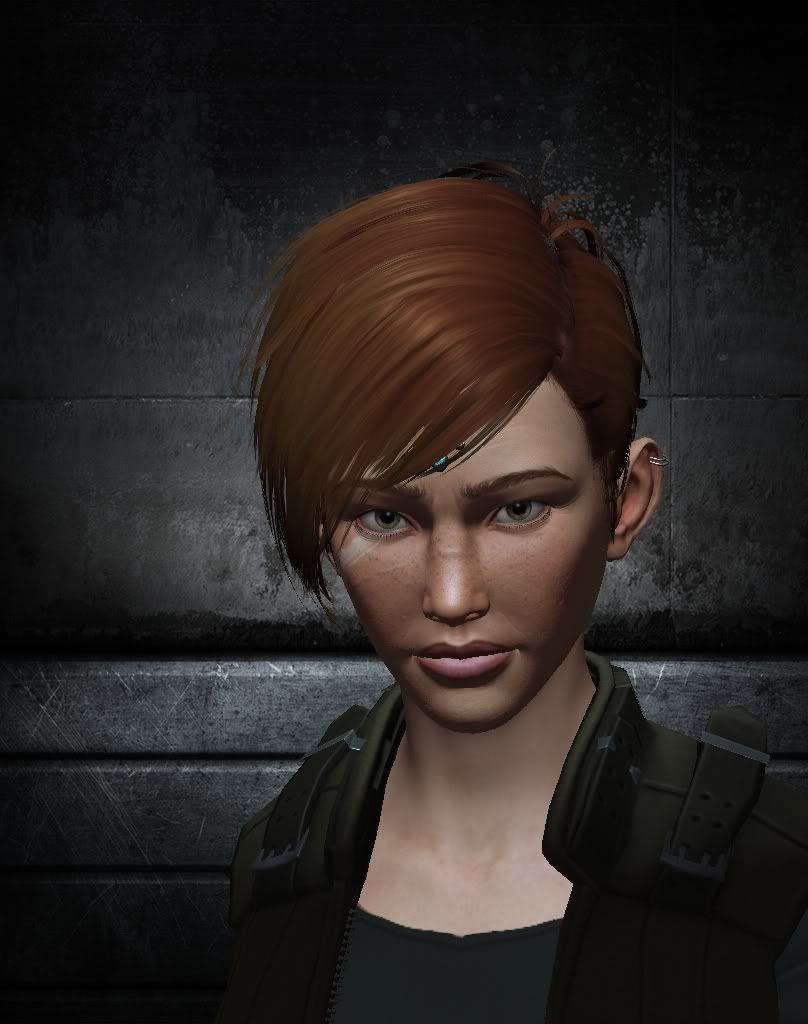 Nicholas "Cap'n Nic" Bray
2.  A fair-skinned man in his forties. Is 6'0" tall, and sports black hair in a skinhead buzz cut. Usually seen wearing a navy blue flight suit with golden trimmings, and a shako.
3.  A mercenary who often tries to point his fellow mercenaries in the right direction, especially those who have just received their first contract. He is aware that there are many others like himself, however.
4.  Allegiance: Empire. He cares very much for its well-being.
5.  Corporation: Bromada [COMFY] - a 'relaxed' bunch who fight for the Federation. Fighting alongside them has made Nic's perception of the other races less extreme.
6.  Tends to throw a fit when someone refers to, or misspells the interstellar navigation beacons as 'bacon.'
(Post still in progress)
(Still, STILL in progress. Post will be updated soon as Im transfering a BUNCH of fourm posts to my G Docs.)
(Still in progress - Have got the general outline finished. Still double checking all facts and figures)