Star Conflict v.1.1.8
In today's patch we added new corporate logos and new flags. We significantly changed the tutorial system for beginners, including a redesigned system of tasks. We also made changes to contracts and notifications about battle for location and construction of corporate dreadnoughts.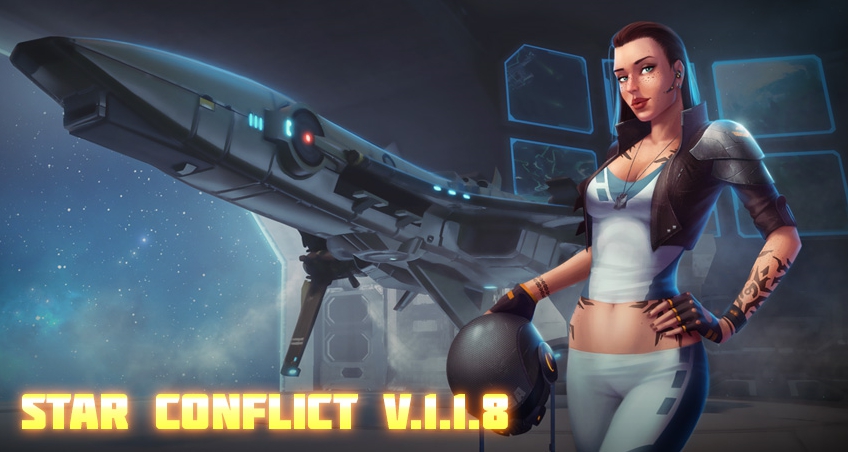 Dreadnought battle
Notifications
For more detailed coverage of dreadnought battles we added additional corporate event notifications.
Corporation battle notifications are now broadcast to game chat:
Notifications on locations changing owners
Notifications on dreadnought construction
Customization
Added new corporation logos
ZION
Element
RED WINGS 
Black Sun Empire
Snow Leopard
APPLESEED DEVIL 8 (updated)
StRaDo
NOD SPECTRUM [NOD] - (updated)
СССР
SPB
Monsters Inc
The Evil Dragon - (changed)
SUCCUBUS
Storm Space Academy
Ultra
Dark Lion Squadron
Infernal Blaze
TURKEY
Added new flags
Azerbaijan
Peru
Other
Contracts
As part of future transformation of the tutorial system we changed availability conditions for starter contracts.
Contracts are now available from rank 3
3 contracts for each of the 6 factions are unlocked simultaneously
You can start completing contracts starting with Rank 3 ships
Tutorial
Reworked tutorial system for rookies. 
Added new tutorial missions for rookies
Tweaked existing tutorial
Bug fixes
Fixed various texts
Fixed a bug with negative registration timer values
Fixed various minor map bugs
Fixed a bug in Detonation mode
Fixed incorrect behaviour in ship marker opacity depending on distance
Fixed a bug with anomalous PvE credit gains for Rank 1 and 2 ships
[Discussion](< base_url >/index.php?/topic/27859-star-conflict-v118-discussion/)