Game mode information:
Each team spawns on one side of the battlefield
Each team has 3 stations on their side
At the beginning a neutral EM-bomb is located in the middle of the battlefield. Max. amount of bombs on the battlefield: 2
You need to destroy enemy stations using the bombs
Shooting a station won't damage it
In order to pick up a bomb, you need to fly close to it, within 300 metres
In order to plant a bomb on an enemy station you need to fly close to the station while carrying the bomb
While carrying the bomb, your ship speed and afterburner speed will be reduced
Using modules that make you invincible or invisible for a certain time or warp your ship to another location will make the bomb drop
Unlimited respawn
Station:
Bomb: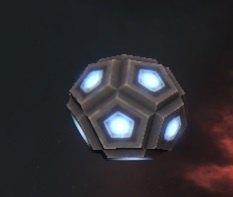 Winning conditions:
Destroy all enemy stations.
If the time runs out, the team which destroyed the most stations wins. If both teams have the same amount of stations remaining, the team with more kills wins the battle.