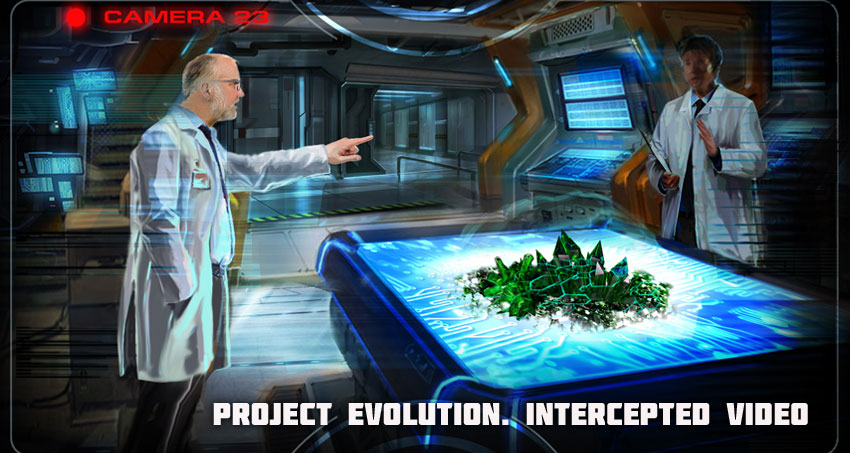 Cryptogram 17H-44.G
From : Imperial Security Service
To : Imperial Spacefleet legate Festus Morten
Subject : Re: Project Evolution
 
Your request U561.25 for access to video transcripts from the events in 'Ellydium' station's block RG7 has been satisfied.
 
Sincerely, Imperial Security Service Agent 814.
Glory to the Emperor.
 
 
Attachment to cryptogram 17H-44.G
Video transcripts from 'Ellydium' station's block RG7
 
Two men in white coats [hereinafter: First scientist and Second scientist] discuss interaction of cesium atoms with some 'control sample' surface. The conversation is conducted in raised voices. A man in a black suit [hereinafter: Suited man] enters the camera's field of view.
 
Suited man : Have you solved the problem?
First Scientist : The test materials have a very extensive and complex molecular structure, to theoretically calculate the mutation, and…
The suited man stops the scientist's hand gesture.
Suited man : the Board of Directors needs results, not excuses!What you need for your research?
Second scientist : We need some new repulsors, a specialist in quantum physics, a couple dozen technicians, no less than 30 tons of new materials.
Suited man : Make a formal request, technicians and specialists will arrive within 5 standard days.For the materials you will have to turn to the Broker. If the materials are slightly… ahem… "spoiled", would that be a problem for the research?
 
The first scientist shakes his head, then looks at the second scientist who echoes the gesture. Suited man nods, turns around and leaves the camera's view.
 
First scientist [muffled]: Are you out of your mind?We already spent more than a billion credits on research of these … things, and achieved nothing.
Second scientist [muffled]: Don't panic.We are very close to a breakthrough. We just need to extend the number of elements to interact with the materials. And perhaps, it should be carried out without the controlled medium and micro injections.
First scientist : But it's dangerous!We can't predict…
Second scientist : We have no choice anyway!Unless we present 'Ellydium' results in the near future… I'm afraid to imagine how they're going to claim the money spent on us.
 
First scientist loudly gulps, retreats, making the table behind him visible to the camera.The table is littered with greenish mineral, weakly glowing with an inner light. The mineral's faces are moving, as if alive.
[Recording interrupted due to file corruption]
 
End of transcript.