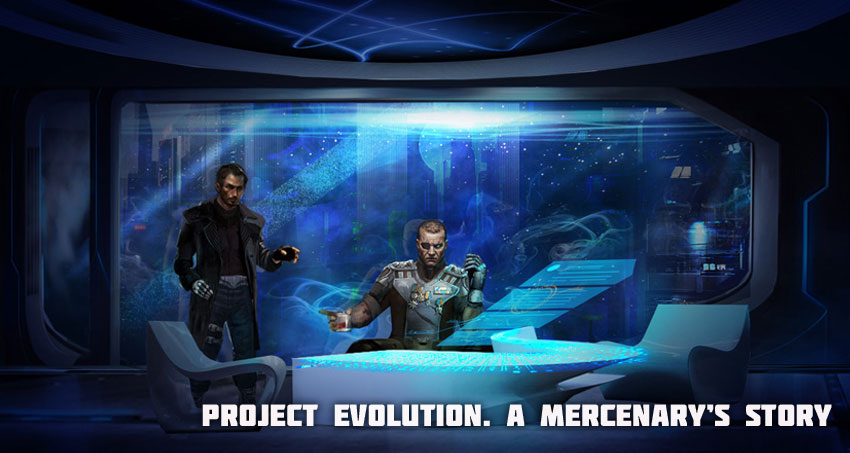 Cryptogram 22H-17.F
From : Mendes family Security Service.Jericho
To : Kwai Wong. Status: Guardian
Subject : Re: Project Evolution
 
I'm sending you a video transcript of the talks between a Federation representative and an unidentified mercenary in response to your request from 17.09 on developments in block RG7 of 'Ellydium' station.
I'm also attaching an image intercepted from one of Ellydium's surveillance cameras.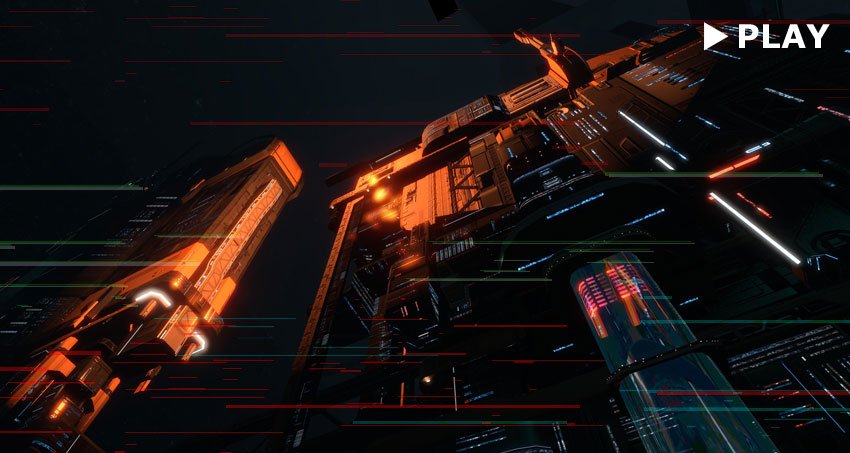 _ May Bartle be with us! Special Agent SV007 of Mendes family Security Service, Jericho. _
_ V _ ideo transcript of negotiations between a representative of the Federation and an unidentified mercenary.
The recording shows a spacious office. Federation representative always has his back to the camera. The door opens and a woman's voice is heard, but it's impossible to tell who is speaking:
 Mr Winkler, he's here. Should I invite him?
 Of course. Invite our dearest guest.
After a while, two men enter the room, allegedly the guests's security detail. A tall broad-shouldered man walks behind them. He has no left hand, and his left eye is covered with an eyepatch. He looks around the room, then looks at Winkler. Winkler nods and makes a gesture with his hand, inviting the guest to sit down. A man approaches to the couch, limping on his left leg. He falls heavily on the couch, the guards at the entrance.
 So, my friend… - starts Winkler
 No names, please. - the mercenary answers.
As you wish. I know you're not happy about our meeting, but you are the only one whom I respect and whom I trust.
The mercenary speaks quite loudly and somewhat irritated: - Fine, Oliver. Get to the point.
Fine. I know that your last outing on 'Ellydium' was not extremely successful.
You bet - the mercenary picks up the glass and takes a sip - I saw all the crap that they have going on there. I swear on my severed hand, these psychos don't know what they're playing with. You do want to send me back there, right? Right, Winkler?
Yes, this is why I summoned you. You're one of the few who managed to escape from 'Ellydium' guard ships alive and get some very valuable information. Now we know exactly what they're hiding. Now we need to find out what properties they have discovered in this thing.
Look at me, Winkler. - Mercenary puts a finger on his eyepatch. - I lost my eye and hand. I lost my entire team. My fleet is decimated. Do you seriously think that I'm going to go there again just like that?
I understand. We also lost a lot of people. But understand that we must be the first get to 'Ellydium'. This is not only in the interests of the Federation, it's in the interests of the entire galaxy. We already know quite a lot, we can't stop here…
The mercenary gets up and turns towards the door: - You're wasting your own time and mine, Oliver.
And thirty million credits do not interest you?
The mercenary stops.
Thirty million. You do need money to repair the fleet and recruit a new team. I'll give you everything you need: people, ships, money, weapons and modules. I will make you my second in command! You will have complete freedom, as well as protection and immunity.
The mercenary snorts and turns:
Freedom? I'm a mercenary, Oliver. I'm already free. I go wherever money is, that's all I care about. Protection? I can protect myself. I act stealthily and have no desire to be in the whole galaxy's spotlight like your clowns.
Now you're starting to annoy me. Fine! What do you want?
The mercenary's face contorts in a smile: - Fifty million credits, your best fighter and Jericho implants for my hand and eye. And twenty million in advance!
I need to prepare.
Winkler: - You know the price of yourself and your services. This is good. Speak to Agnes. She can transfer the credits to your account.
The mercenary leaves with his guards.
Winkler sighs, then pulls out a small device with buttons, clicks them.
He agreed. Fifty million. Yes, it's expensive to hire ten mercenaries, but not all will return. And if everything works out, we will redeem all our losses thousandfold.
 
End of transcript.