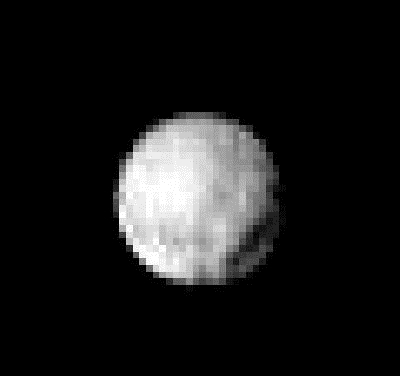 _This is the one of the first photo of Pluto, made at a distance of ~14 millions km. The photo was taken by the NASA spacecraft "New Horizons", launched on January 19th, 2006 to study the dwarf planet Pluto, its moons and one or two other Kuiper belt objects.
After 7 days, "New Horizons" is intended to pass within 12,500 km of Pluto, with its closest approach date estimated to occur on July 14th, 2015 at 11:50 UTC. It is planned to spend 9 days of observations, for which it will collect about 4.5 gigabytes of information. Also the hypothesis that there is a ocean of water on Pluto, will be tested (assuming that it is under a layer of ice on the surface of the planet). The transfer of the collected data will take several months._
We all look forward to the results of the mission! And now…
Attention, contest!
We offer you, creative space fans, to share your photos of the night sky!
Participation conditions:
Subject: "Starlit night sky";
Format: photograph;
Each participant can send us no more than one photo;
Photo should be published in [special topic](< base_url >/index.php?/topic/27594-photocontest-sky-gets-closer-%E2%80%94-discussion/).
Requirements to photo in the "photograph" format:
Photo must be original and created specifically for this contest;
Please, don't forget to add your ingame nickname to the description of your photo;
Photo should include the main theme of the contest — night sky with stars. The rest is up to you.
Notes:
We understand that not everyone has the "Hubble" telescope at home. That is why the main idea of the contest is stars, not a size of stars. Especially the Sun… Seriously, do not take pictures of the Sun!
Photo will be judged on the plot of the photo, its uniqueness and breathtaking beauty;
Please, don't use graphic editors. It's forbidden;
The winners are determined by the administration, 3 winners will be chosen at the end of the contest.
Entries will be accepted until August 31.
Prizes:
The award for the first place — 4000 Galactic Standards;
The award for the second place — 3000 Galactic Standards;
The award for the third place — 2000 Galactic Standards.
[Contest discussion](< base_url >/index.php?/topic/27594-photocontest-sky-gets-closer-%E2%80%94-discussion/)
 
Example of photo, made by our pilot Northernlights: