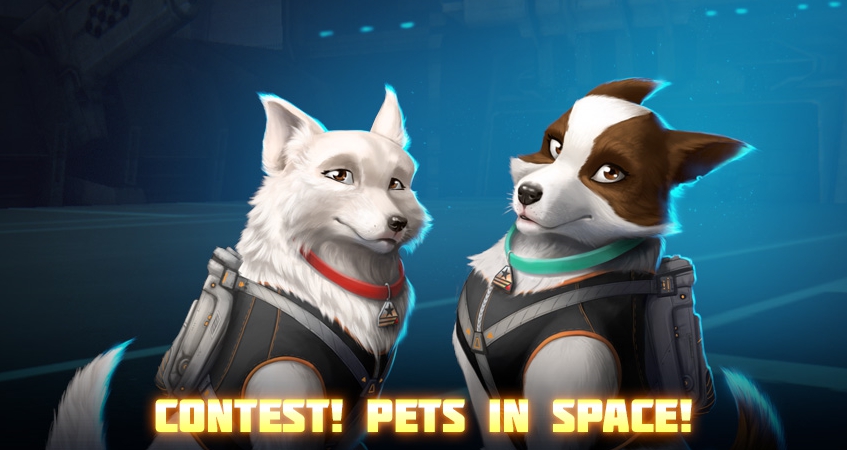 Belka and Strelka are Soviet astronaut dogs, the first animals to take part in orbital space flight and return to Earth unharmed. The flight took place on board the 'Sputnik-5'. It launched on August 19, 1960, and the flight lasted more than 25 hours, during which time the ship made ​​17 full revolutions around the Earth.
Pilots, especially pet owners!
We are pleased to announce the launch of a new competition of creative works in honour of this momentous event in the history of space exploration. Victory in this competition will be a daunting task for any pilot, unless he has a crew of faithful furry (or not so furry) pets.
Warning! Mercenaries, we declare a general draft for all teams, consisting of two pets ready to go on a dangerous journey to explore the unknown corners galaxy.
Do not miss the chance to present your team and prove that it is worthy to replace Belka and Strelka on the path of discovering all secrets of deep space!
Terms of creating a competitive work:
Theme: 'Pets in Space';

Format: Photo;

Each contestant can only put forward one work;

Works can only be published in aspecial topic on the forum.
Requirements for the 'Photo' format:
The photo should be original and created specifically for the competition;

Description of the work must also be mention your nickname;

The photo must have two of your (or someone else's) pets and anything related to the game Star Conflict (or space-themed). Your imagination is the only limitation!
Competition notes:
You probably shouldn't launch pets into actual space;

We want to see funny, amusing and interesting photos of your pets;

Try to use graphical editors as little as possible;

Winners are determined by the administration. Three winners will be selected according to the results of the contest.
Applications will close on September 2nd
Prizes
1stt place award — 5000 Galactic Standards;

2nd place award — 4000 Galactic Standards;

3rd place award — 3000 Galactic Standards.