Credits: NASA/JHUAPL/SWRI
Long-awaited meeting
Tomorrow, on July 14th — NASA's station "New Horizons" will meet Pluto. The distance between the Space probe and Pluto will be only 12.5 thousand kilometers. It is a huge historic event that will allow scientists to obtain a maximum of information on Pluto and its moon Charon!
Specialist will be able to tell more about the geology and the atmosphere, if Pluto has one. According to the message from NASA, it will take about 4.5 hours to send all the obtained information back to earth. By the way, there is a map of Pluto, created by NASA.
On July 11, 2015, New Horizons captured this image, which suggests some new features. For the first time on Pluto, this view reveals linear features that may be cliffs, as well as a circular feature that could be an impact crater. Just starting to rotate into view on the left side of the image is the bright heart-shaped feature that will be seen in more detail during New Horizons' closest approach.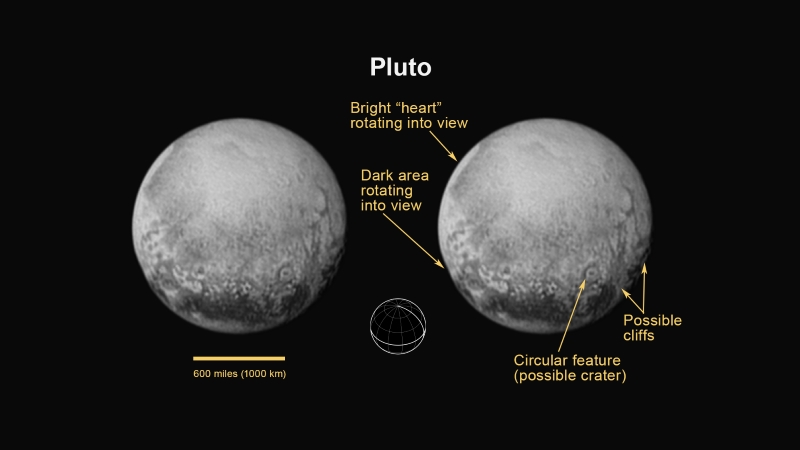 Credits: NASA/JHUAPL/SWRI
Also, there is a clear picture of Pluto and Charon, which shows that not only the structure, but also the color of the surface of the planet and the satellite are very different.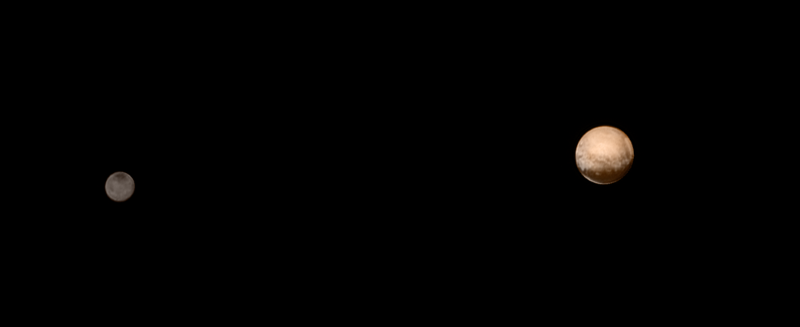 Credits: NASA/JHUAPL/SWRI
We all look forward to this event! Less than a day is remaining!