1. Describe the bug in a few words/sentences.
After getting the loots from either pvp or pve, they cant be found anywhere and also missing from "My Items" storage. Credits are deducted from paying for mk4 loots but item are missing.
2. Why do you think this is a bug.
Looted and paid (mk4s using credits that go up to ~500k with tier4/5) items missing/not given. Had 1087/1100 when it happen this last time. Paid another 1.5m to get +200 more space to 1300 and went on another Tier4/5 pve to try and screen shot the bug.
3. How often does this bug occur.
Almost every time when I loot mk2 or mk4. Happened many times after the patch but only noticed it about 3 days ago when I tried to upgrade a weapon after receiving the mk2 upgrade. The mk2 upgrade cant be found from the drop down box of the ship's weapon and not found in the "My Items" storage.
Asking in general and corp chat, seems that there are others (a few) who had the same problem (more than enough item space), members in corp did not encounter it though.
4. What was your last action/How to reproduce the bug.
Mentioned in "2". Had 1087/1100 space when it happened, general chat mentioned limited space (which was not in my case). Went on to get EVEN MORE item space (you can see the space available in the screen shots) and did another T4/5 pve to screen shot the bug.
5. Detailed explanation of the bug.(Only if you need to add more information to 1.)
Mentioned above.
Step 1: Found a mk4 loot (screenshot-151004-232854)
Step 2: Pop up screen for options to pay for it. (screenshot-151004-232859)
Step 3: Loot paid for (screenshot-151004-232902)
Step 4: Results screen, Tier 4 engine upgrade shown clearly with mouse-over to show details of item, name and clear indication of item bought. "Kit for Vernier Engines IV" (screenshot-151004-232916)
Step 5: Results screen without mouse-over. Both screen shot showed prove of item. (screenshot-151004-232930)
Step 6: Back to hanger. "My Items" storage shown. Tier 4 engine part selected/shown as item missing is Vernier Engines IV. Item mk4 upgrade not found. (screenshot-151004-233309)
Step 7-1: "My Items" list showing upgrade kits directly, Tier 4 selected. As it was an engine part, they usually show up near to the end of the list. (screenshot-151004-234102). Item missing.
Step 7-2: Overlay of the 3rd last row to show more items I have, however the new item "Kit for Vernier Engines IV" is still missing (screenshot-151004-235943)
6. Your system specs + Operating system as DX Diag.
Attached below
7. Videos + Screenshots (Only if needed, but in most cases they are helpful)
Attached below
8. Log files + Exceptions
Attached below
New information/bug found that is related. Since I'm not getting the items, I've salvage it straight away in the pop up during looting, however the iridium that is salvaged did not add to my total. I had 842 iridium before and still 842 after. Will try to get a screen shot off it. I suspect even those contract vouchers that I get from looting does not add to my total, cant prove it at the moment since I will have to look at the number every match and each time i do get a voucher loot. This is becoming a hassle more than fun. sigh
[2015.10.04 23.36.52.zip](< base_url >/applications/core/interface/file/attachment.php?id=9953)
[DxDiag.txt](< base_url >/applications/core/interface/file/attachment.php?id=9954)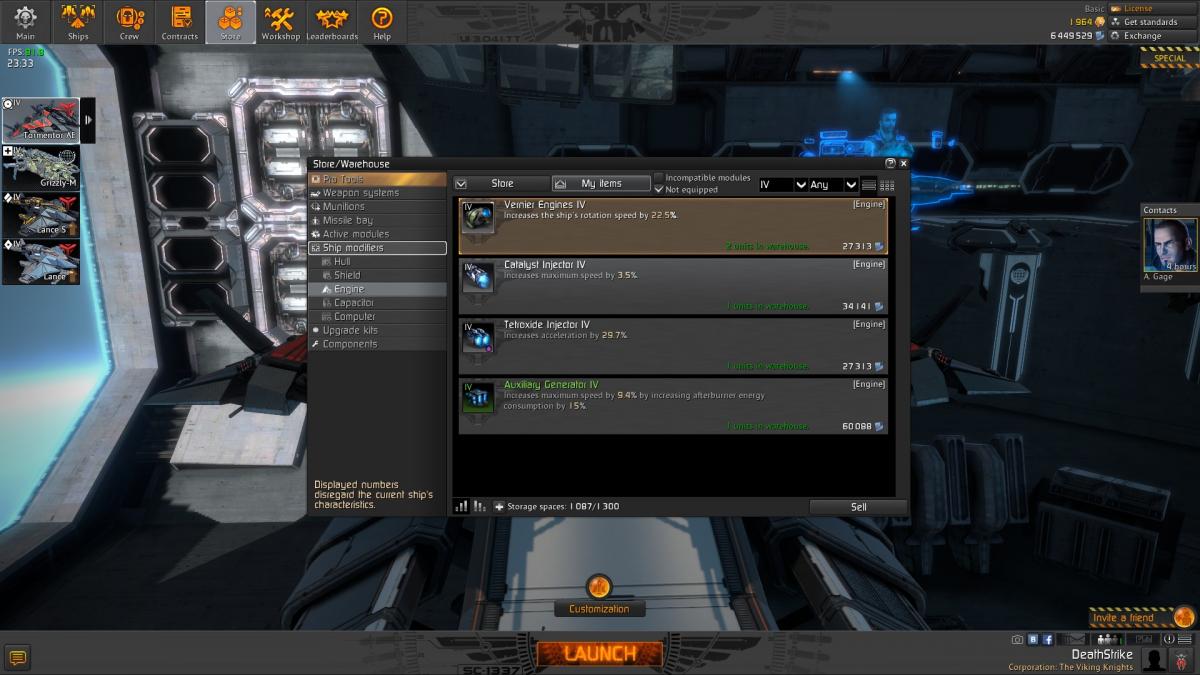 [DeviceCaps and user_config.zip](< base_url >/applications/core/interface/file/attachment.php?id=9963)