After around 20 matches these are my impressions.
Presentation
Superb.
The graphics are great and it runs like butter with all settings maxed on my system (core i7@3.5ghz, 6GB RAM, Geforce GTX 550TI)
From other recent space-titles I've played (Black Prophecy, X3 Prelude, Evochron Mercenary) this game stands out as one of the best looking games.
I simply love the detail put into the ship-models and general atmosphere.
I want to especially note the thruster-animation with realistic firing of maneuvering six-axis thrusters when moving in all directions.
One tiny gripe are textures on the man-made metallic structures in space, they sometimes seems stretched and repetitive as seen in the below screenshot.
The skybox could also use a bit more depth, but thats a tiny minor detail.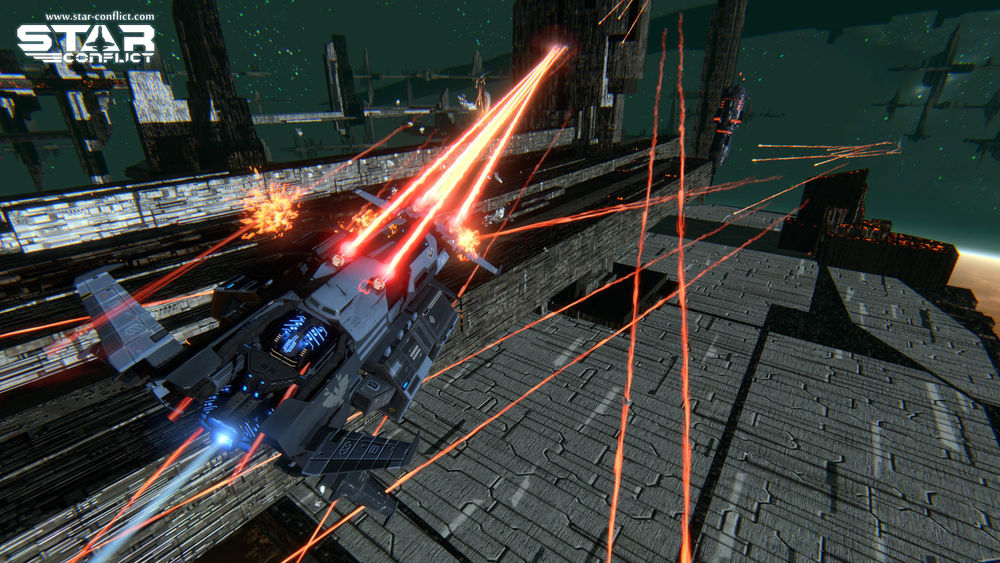 Controls and Handling
The most important thing about space- and flight-sims are the controls as well as the handling of the ships.
In my opinion the control-scheme for Star Conflict is in general very good and the ships especially handle very realistic.
Of course this is all subjective opinion, but I think that the addition of momentum and six-axis control for all ships is a great way to give control to the player and his skill.
All ships handle very distinctly depending on their mass and role. Personally I love gliding-maneuvers using momentum.
There is only one problem, namely the controls shouldn't be as homogeneous as they are.
The Frigate lends itself to have a separate more tactical control-scheme for example with a focus on turrets where the ship doesn't go all bonkers if i aim down with the mouse, while the Interceptor would benefit from a separate more direct first-person control instead of controlling the turrets like in Freelancer and letting the ship follow.
I understand that this is a double-edged sword because people would need to adjust mid-fight to the new control scheme, so it could maybe be implemented as an optional ship-module or skill that could be unlocked if one so wishes (specialization).
Otherwise I am very satisfied with both handling and controls, those are just suggestions for consideration.
Maps and Map-Balance
In general I am satisfied with the balancing of the maps.
There is but one map where the design is questionable, one of the nodes is so close and exposed to the enemy team that a frigate in sniper-mode can take out all its defense-drones before the other team can get in range to become a threat.
This often secures an early advantage on this map.
The maps are greatly designed to give all ships hiding-places and provide good cover against snipers or to bypass the main enemy-fleet and ninja-cap one of the points.
There is great positioning-depth in all three dimensions of space, kudos to the designer.
Ship, Game and Equipment Balance
I am not qualified to tackle this problem in great depth so I will just recount my "feelings" from the matches I had.
Interceptors seem to blow up too fast when faced with frigates in sniper-mode. I had situations where I got two-shot just after I dropped out of warp without enough time to get to cover.

Missiles seem to be too ineffective. I like it that they can in fact be outmaneuvered in a fast ship as well as counter-measured but that means that a lot of missiles will not reach their target, they lack the "oomph" to balance this fact out. Don't get me wrong I don't want them to be one-shot kills, but they need to do more damage than they do now.

Tier 1 frigates seem far too fragile while Tier 2 frigates seem far too tough (or seem to be if compared with T1). I blame this on the stacking progression. A player that reached T2 ships will gain benefits from his talents as well xxxx higher-tier mods and equipment. This makes the curve shoot up if stacked with T2 ships.

The problem with the above is that this leads to a feel of playing against a stacked deck where the enemy player has an unfair advantage. This isn't to say that this is so, but it feels this way. The balancing should be so higher level players have an advantage of course, but that killing them is not only theoretically possible, but also practically probable. Otherwise new players will be quickly discouraged from returning to the game. Suggestion : Matchmaking needs to take your position in the game under consideration. Like in League of Legends the matchmaking needs to pair you up with the same tier (ELO) as you are in.

Survivability modules should be consumables (with a limited amount of uses) not on cooldown. Or if they are infinite use, the cooldown has to be very long. I've played several matches where a player could repeatedly just regrow his ship behind an asteroid from near death, it takes the dynamic right out of the game. Suggestion : friendly nodes heal your ship, self-survivability modules are limited use, repair-modules are infinite use but with higher cooldown.

Sniper mode needs a rework or re-think. The current situation is that frigates can essentially quick-scope and in addition drop into sniper-mode at will. This creates the problem that they can both preserve battle-field awareness while being a huge threat on the battlefield. Suggestion : Make going into sniper mode either a.) have an animation that takes time to complete before going in and out of first-person view or b.) make frigates in sniper-mode more vulnerable (for example by dropping the shields).

Stealth Attack-ships need more firepower. For a prime assassin-type they do too little damage. Their shtick should be that they do hit and run tactics where they can obliterate frigates in under 10 seconds, this would make snipers more afraid. Right now I don't seem to be able to take out a frigate fast enough, especially if it has railguns all over (space-shotgun) I'm pretty much dead.
Thats all I can come up with for now.
Game-Modes
The game needs more game-modes than territory control.
I expect that there will be more of them at launch.
As awesome as the game is, i don't think it can hold me over for longer than a week with the same game-mode.
Progression
Experience-gain is pretty good, I would leave it like it is, the progression feels well paced.
Reputation is another matter. It feels like reputation-gain is too slow. I've played a pretty big chunk of the game now for the past two days and I'm barely reputation-level 2 with one faction.
Add to that the fact that ships and equipment are faction-locked it will become incredibly slow to progress.
I understand that you want to "encourage" people to buy boosters (licenses) but at this pace people will leave because they can see through this "encouragement" and will deem the game a grind.
Suggestion: Create a smoother reputation-gain curve for tiers but build in an exponential increase between the tiers every time they would reach a new tier of item or ship. The curve might look something like this:
This is a pretty well-proven model for narrative story-telling that creates tension and motivation in spurts to "get more stuff" without looking like an insurmountable mountain of grinding.
Business Model
Pretty solid and non-predatory from what I've seen.
Well thats all from my side, I will update when I come up with more things.
All in all this game seems to be on a very good way to become my favorite.