Arms Race the New Awards
Pilots! Due to your great participation and feedback Star Conflict Team decided to include top 10 corporations in to the award list. All Corporations that finish building their Dreadnoughts before stage 4 ends, are going to receive special achievements. Top 10 Corporations will receive special achievements and other prizes. Moreover, Top 3 Corporations, along with previously listed prizes, will be rewarded with something special.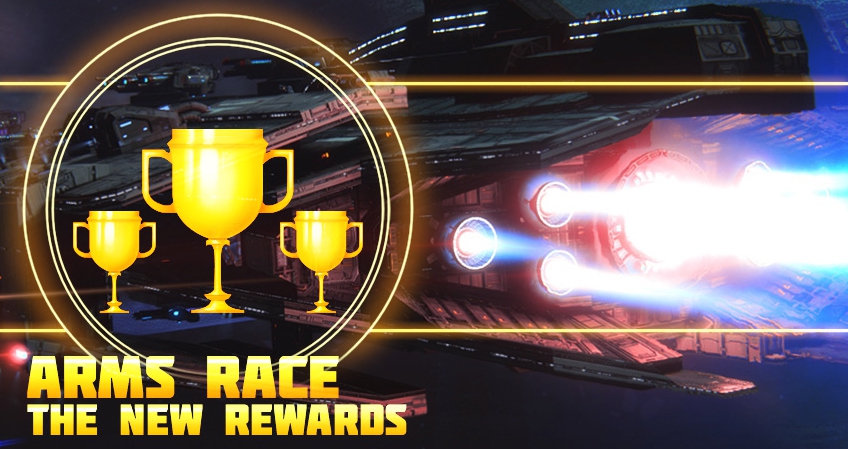 Winners will be chosen by the following criteria:
Time spent assembling the Dreadnought will be calculated and summed for all stages. Therefore, the Corporation that spent the least time building the ship wins.

It doesn't matter when construction began, the most important information to note is that it is essential to finish building your Dreadnought before stage 4 ends.
Winners will receive:
All Corporations that finish building their Dreadnoughts before stage 4 ends will receive unique achievements. (Please note that those who failed to comply with the following rules will not receive any reward)
Top 10 Corporations will get a special decoration for their dock location.
The first three Corps will have an opportunity to decorate their Dreadnought with a unique module of their own design. Use it to instill fear into your foes.

The top two Corporations will receive unique skins for their Dreadnought.

And only the top Corporation will receive all the above plus a special bundle which includes a unique set of pilot portraits available for this corporation only and including portraits chosen by this corporation.
A procedure for claiming prizes will be announced later. We do not give favours to any corporations, therefore all corporate players will be thoroughly checked. Any Corporation can join at anytime. Joining later doesn't mean that you are going to lose!
Learn more about the Arms Race here.