Almost one month ago we announced the Arms Race between corporations. Its time to announce the winners.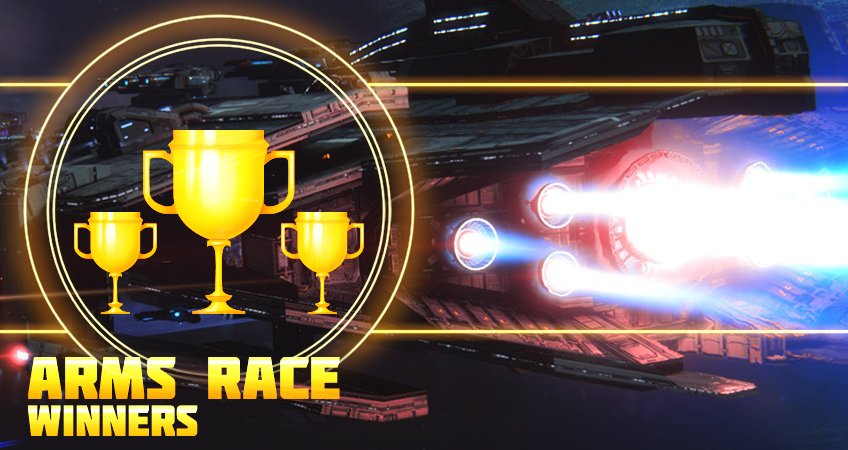 We would like to remind you that the main objective was to assemble the Dreadnought with less time spent than other corporations. Mercenary Centre counted the total time spent by each corporation for each stage. Here is the top 10 corporations that spent less time than the others:
1st place: SCORPIONS
2nd place: Star Storm
3rd place: RED Star
4th place: SIRIUS
5th place: VIP
6th place: Rage
7th place: MAXHO UA
8th place: CCCP
9th place: MARODYOR
10th place: SPACE INQUSITIO
A quick reminder: all corporations that managed to build a Dreadnought before the end of the fourth stage will receive a unique achievement.
Winners will receive the following rewards:
The first top ten corporations will receive a distinctive sign in locations holding their docks.
Top three corporations will get the opportunity to customize their Dreadnought with unique decorative superstructures of their own design. Use them to reflect the spirit of the corporation and strike terror into the hearts of your enemies!
Pilots of the top two corporations will receive brand new colouring schemes for their ships.
Mercenaries of the top corporation  will get access to a unique package of portraits for pilots, which will be available to them only. Each pilot of this corporation can choose a portrait of this set. It will consist of a set of portraits, sent to us by the corporation members!
Prizes distribution:
Unique achievement will be received by all the pilots of corporations who built their Dreadnought by the deadline. Achievement will be issued with the next update
At the same time the top ten corporations will receive their unique location sign.
Pilots of the top three corporations will also receive new colouring schemes for their ships at this time.
The leaders of the top three corporations will receive instructions and requirements for the development of decorative structures of their dreadnoughts. They will have to pass on their structures for approval through the communications system (forum).
CEO of the top corporation will have to assemble the package of 20 pilot portraits and transfer it to the Centre management.
All your work will be checked by our experts and will appear in the game after a short time.